About Southern Hospitality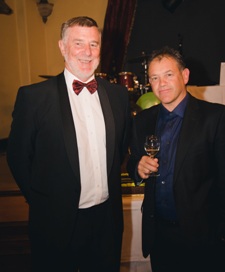 Roger Fewtrell, Company Founder (left) in 2014, celebrating Southern Hospitality Ltd's 25th birthday.
Southern Hospitality Ltd was founded in Dunedin by partners Hyam Hart and Roger Fewtrell back on 7 October 1989 and opened by Sir Clifford Skeggs the then Mayor of Dunedin. Today the company has become a major player in the catering and hospitality industry. Many people know of the company, however many know little of what Southern Hospitality actually does. Southern Hospitality is like a mega kitchen store for the hospitality and foodservice industry. Stocking over 13,000 product lines imported from over 400 manufacturers in 35 countries. With 1 million items in stock, we offer everything from teaspoons to furniture to combi–ovens and much, much more. All products are specially selected for the strength and reliability that the commercial sector requires. The buyers from Southern Hospitality spend over two months each year overseas at trade fairs and factories looking for new and improved products so customers continue to receive the latest products and inventions at the best possible prices.
We have a dedicated design division with five full time CAD designers, an interior design consultant and an architect who specialise in the design of commercial kitchens and preparation areas, bars, restaurants, cafes and other public areas in hospitality. Southern Hospitality can take care of the complete project from the design to obtaining resource and building consents to construction, fit–out, installation and after sales service. Southern Hospitality can talk to you about your concept, put plans in place, do the job and virtually hand over the keys when the entire project is finished. We do as much or as little as you require.
Employing over 120 chefs, bakers, and experienced hospitality–trained staff makes the difference. All our people are passionate about the industry and we are proud to be able to support young people entering the industry by offering sponsorship for culinary competitions and prizes to secondary and tertiary training institutions as well as 20 scholarships each year to tertiary hospitality, foodservice and bakery students. We enjoy investing back into our industry's future.
With 15 showrooms nationwide, Southern Hospitality have local service in all parts of NZ. Each one of our showrooms are well stocked and attractive places to shop and they all have a warehouse attached to provide the backup stock of consumables such as glasses and crockery.
Southern Hospitality has three stainless steel fabrication plants enabling us to provide the total supply solution in a completely seamless way. These three factories specialise in the fabricating of Stainless steel benches, bains marie, extract systems, wall linings - basically all things stainless steel. In addition Southern Hospitality has a joinery factory manufacturing custom designed joinery and a mechanical company providing and installing extraction systems.
The company is 100% NZ owned and operated and over 95% of the shares belong to people who work in the company – the people you deal with are probably shareholders.
With all of this in mind you can be assured that your experience with Southern Hospitality will be pleasant and productive!
Southern Hospitality Share Buyback Scheme
Summary of the scheme
The Company has historically operated a buyback programme under which it has made periodic offers to Shareholders to purchase shares issues under the Scheme up to a certain dollar value. However, the Company may suspend or close that programme at any time.
While the shareholder has an outstanding loan with the Company in respect of shares, that shareholder is permitted to participate in the buyback programme, but only in respect of all (and not part only) of the relevant shares. If the shareholder sells shares to the Company on this basis, the shareholder must repay the outstanding loan in full.
If the shareholder does not have an outstanding loan with the Company in respect of shares, then they may offer their shares to the Company under the buyback programme in respect of some of all their shares at their option.
Although shareholders who cease employment are not required to sell shares back to the Company on ceasing employment, if they wish to do so voluntarily the Company currently makes arrangements to repurchase those shares through the buyback programme.
The returns the shareholder receives are not fixed or guaranteed.
Financial Impact of the Share Buyback Scheme
Number of shares acquired by the company under the buyback for the period 1 April 2015 to 31 March 2016 was 126,751
Hospo Ltd and associates shares held as a percentage of total shares issued: 51%
Comcater Trust shares held as a percentage of total shares issued: 20%
If the Company repurchases 200,000 shares over the next 12 months as approved at the Board meeting on the 19th of April 2016, the percentage of all shares that could be held or controlled by Hospo and the Comcater Trust if the company acquires the approved maximum number of shares would be:
Hospo Ltd: 47%
Comcater Trust: 21%
If the Company repurchases 200,000 shares over the next 12 months as approved at the Board meeting on the 19th of April 2016, the percentage of all shares on issue that could be held or controlled by Hospo and the Comcater Trust and their associates if the company acquires the approved maximum number of shares would be:
Hospo Ltd and Associates: 52%
Comcater Trust: 21%