Southern Hospitality is like a mega kitchen store for the New Zealand hospitality and food service industry. We are a NZ owned and operated business, and over 95% of the shares belong to people who work in the company - the people you deal with are probably shareholders.
Southern Hospitality was established in Dunedin by Hyam Hart and Roger Fewtrell back on 7 October 1989 and opened by Sir Clifford Skeggs, the then Mayor of Dunedin. Today, with 14 locations nationwide, we are a major player in the catering and hospitality industry providing a multitude of services and products. We also have an export division to support our customers in the pacific islands.
After being in business for over 30 years, in 2020, we unveiled our new logo; it features a more colourful, modern design with the new Southern Hospitality circle to represent the diversity of our customers, our people, our product range and the different areas of our business.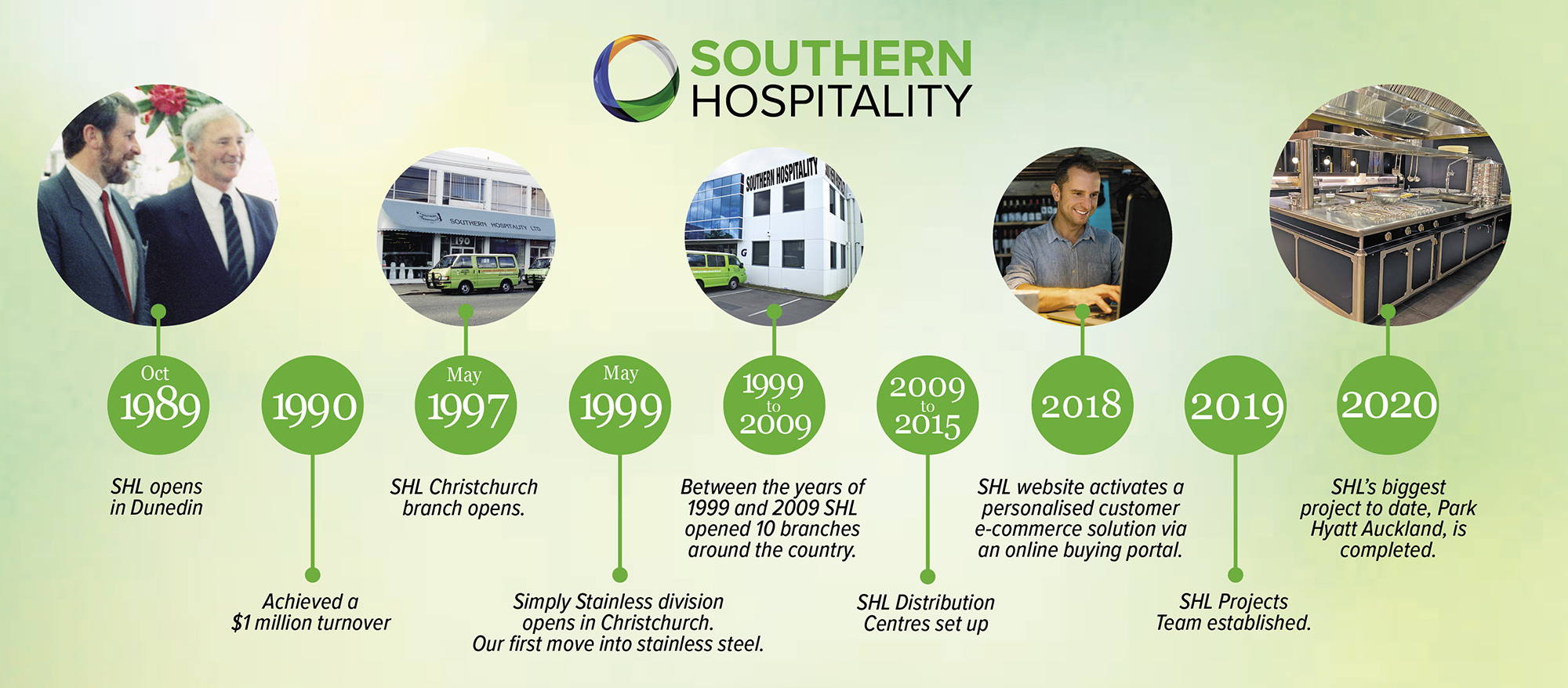 We stock over 13,000 product lines imported from over 280 manufacturers located in 35 countries. With over 1 million items in stock, we offer everything a commercial kitchen environment needs, from teaspoons to massive cooking and food preparation equipment - we have it all.
All products are specially selected for the strength and reliability that the commercial sector requires. Our product managers spend multiple weeks each year at overseas trade fairs and factories looking for new and improved products so that our customers continue to receive the latest products and innovation at the best possible prices.

Southern Hospitality also has a dedicated design division - Project Design Team. With full time designers, they specialise in the design of commercial kitchens and preparation areas, bars, restaurants, cafes and other public areas in hospitality. Southern Hospitality can take care of the complete project from the design to obtaining resource and building consents to construction, fit–out, installation and after sales service. Southern Hospitality can talk to you about your concept, put plans in place, do the job and virtually hand over the keys when the entire project is finished. We do as much or as little as you require.

Project Stainless Ltd is Southern Hospitality's stainless steel fabrication business. We have three fabrication plants across the country enabling us to provide the total supply solution in a completely seamless way. These three factories specialise in the fabricating of Stainless steel benches, bain-maries, extract systems, wall linings - basically all things stainless steel.
In addition, Southern Hospitality has a mechanical company providing and installing extraction systems. Established in 2013, Project Mechanical Services Ltd is operated by experienced engineers with a passion for commercial kitchen ventilation design. Our team offers a wealth of knowledge and experience in kitchen ventilation design and an intimate knowledge and understanding of the products we manufacture.

Employing chefs, bakers, and experienced hospitality-trained staff, all our people are passionate about the industry and they make all the difference! Southern Hospitality has won several industry awards for Best Sales Representative and Best Supplier in New Zealand over the years!
We are also a major sponsor for various competitions and culinary championships across the country as we believe in investing the future chefs of tomorrow. With all of this in mind you can be assured that your experience with Southern Hospitality will be pleasant and productive!