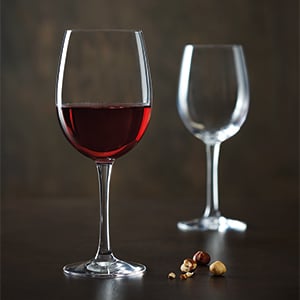 Capacity: This Cabernet Tulip Wine Glass from Chef & Sommelier comes in 4 sizes: 250ml, 350ml, 470ml and 580ml.
Cabernet: An international star. The most cultivated vine in the world and star of Bordeaux has lent its name to Chef&Sommelier's Cabernet collection. The elegance of a classic design, adds sparkle and outstanding durability to proceedings. Pair with the Primary tumblers and the specially designed cocktail collection.
Introducing Krysta™: The High Performance Crystal Glass.
Gastronomy professionals are searching for glasses that satisfy their needs in terms of perfection and sophistication.
Their Desire: Splendidly elegant table settings with fine, lightweight, extremely transparent products.
Their professional needs: Intensive daily use requires products that are highly resistant to shocks and detergents.
To meet these twin challenges of aesthetic excellence and resistance, all C&S glassware is now produced in Krysta™, a new generation of lead-free crystal.
Superior Strength
The Arc Research Centre has developed a crystalline material, Krysta™, combining superior strength with exceptional finesse.
Lip: With a thickness of 1mm, Krysta™ is 30% stronger than other standard crystal in the market.
Stem: Thin stems (~6mm in diameter) have twice the mechanical resistance when crafted of Krysta™.
Chef and Sommelier's designers do not follow trends: they use them as inspirations and jumping-off points when creating the Chef&Sommelier collections. Their designs are at the leading edge of refinement and performance, featuring the most innovative technology and materials.
Chef&Sommelier has partnered with committed professionals who use their expertise to make their product lines even better. Their collaborations deliver the excellence demanded by creative professionals like you.
Design process - Designers are perpetually in creative mode. They find inspiration in everything: trends, art and even modes of consumption.
Factory - A magical combination of traditional craftsmanship and high-tech, that is how Chef&Sommelier achieves the desired level of excellence.
Laboratory - Products are tested to ensure they meet rigorous standards for heat resistance, durability and colour-fastness.
What Do You Think Is The No. 1 Reason Glassware Breaks? Being dropped? No. Clanking against another object? No, but close. Find out more.
Other products you will be interested in: