Preparing Your Equipment To Use After Covid-19 Alert Level 4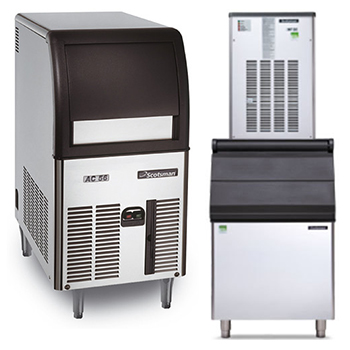 After weeks of not using the ice machine there has been no water flowing through the hoses and dispenser, so bacteria will be present throughout the insulated bin and dispenser. Most ice machines have an automatic cleaning cycle, but in this case it is important to manually clean all exposed areas inside and out.
Here is a step by step guide on how to clean and what to check before starting up the ice machine.
Check the water feed to the ice machine is on, all isolators are ON usually when the toggle is up and down.
Remove ice scoop, ice curtain if applicable, and water catcher inside the bin (refer to your manual).
Spray the sanitiser that you have on hand around the door frame seals, inside the bin and out, ensuring that you cover all exposed surface areas. Leave for 15 minutes and rinse with hot water. Wearing a face mask, goggles and gloves is recommended.
The common mould and bacteria in ice machines will be black and slimy, repeat rinsing until you have removed all bacteria and repeat sanitising if required.
In the sink, spray the ice scoop, ice curtain, water catcher and any other parts removed from the dispenser with sanitiser. Leave for 15 minutes and rinse thoroughly with hot water and re-assemble.
Remove the air filter (refer to your manual) and clean with a dry cloth until all dust has been removed.
Note: Changing the water filter is recommended if applicable.
Download a printable PDF of the instructions here.
Recommended Chemicals
Disclaimer: Please refer to the operating manual of your equipment as your item may differ.