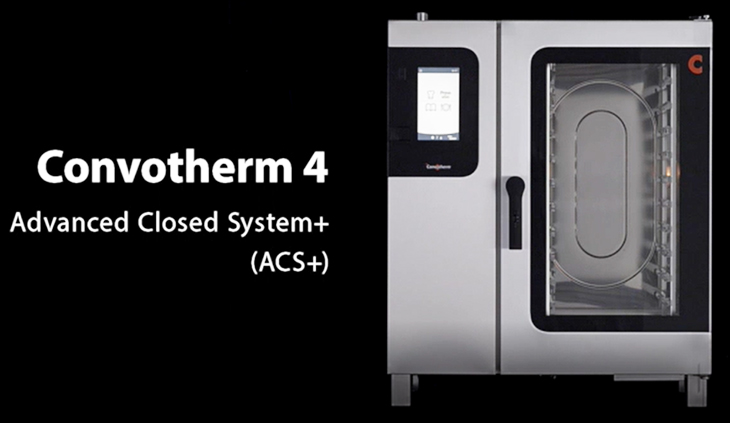 The ACS+ system ensures peak cooking performance in every Convotherm 4. It guarantees perfect steam-saturation, automatic humidity adjustment in combi-steam cooking and fast, even heat transfer for convection. This delivers an ideal, constant environment in the cooking chamber for all products, from vegetables through meat and fish to side dishes or baked goods, whether fresh, frozen or precooked. Even when the combi oven is fully loaded, you achieve consistently excellent results: evenly cooked, succulent and crispy.
Our ACS system works like a pan lid, keeping heat and moisture in the combi oven so that the temperature rises rapidly and less power and water are required. The new ACS+ system can do even more: it uses smart active control of air input and output. After all, if you want to reduce a sauce, you take the lid off the pan.
New and improved extra functions in ACS+

Crisp&Tasty
In convection mode you can produce food that is tender inside yet super-crispy outside in minimum time.
5 levels of moisture removal
All 5 levels can be set manually or programmed

BakePro
Select the right amount of added moisture for your food items in convection mode and the Convotherm will add the required rest time period automatically.
Traditional baking function in 5 levels
Steaming and resting produce baking results as good as the traditional baker's oven
No need to defrost frozen baked goods before baking
Programmable, including multi-level baking profiles

Fan speed
For unbeatable results, even with the most sensitive products such as pastry puffs:
Fan speeds – 5 levels provided
Permanently programmable if required
Perfectly consistent results, even when combi oven is fully loaded

HumidityPro
In addition to automatic control, this new function lets you control the moisture level manually in combisteam mode from as low as 30°C, precisely suited to your personal preference:
5 moisture-level settings
Super-succulent dishes cooked precisely to your requirements
No need to enter percentages
Also ideal for holding food
To find out more about Convotherm's Advanced Closed System, give us a call at 0800 503 335 or email us at [email protected].