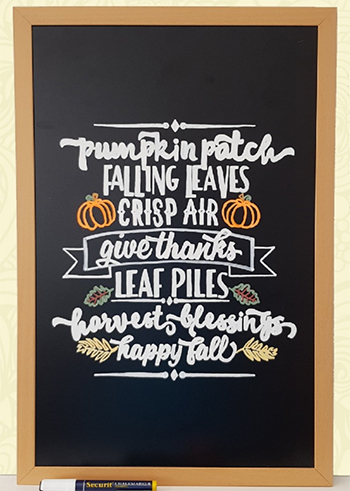 Securit® Double-sided melamine chalkboard with wooden frame - wood with lacquered teak finish - including white chalk marker and mounting kit.
Dimensions:

30 x 40 cm
40 x 60 cm
60 x 80 cm
Qty: 1
Colour: Lacquered Teak
Features & Benefits
Teak finish frame contrasts nicely with the black of the chalkboard for a modern professional look.
Hang it on any wall or on an easel and let your creativity flow. Wall chalkboards are popular for pricelists in cafes or to display the whole menu in a restaurant.
Reusable with chalk markers or traditional chalk.
Convenience with marker included. Just prime, write, let dry and when it's time to change it up, wipe clean with water.
Includes 1 Securit® original chalk marker + mounting equipment.
Care instructions:
Wipe clean with wet cloth when Securit® classic markers were used.
Clean with Securit® Cleaner Spray when Securit® waterproof markers were used.
Securit are, at heart, the chalk marker people. Since the development of liquid chalk markers, they have been global leaders in developing signage and communication products for the hospitality industry. Securit® stands for reasonable priced quality products, such as chalkboards (for pavements, tables and walls), chalkmarkers, chalkboard paint, adhesive chalkboards, menu holders, (LED) information displays, barriers systems and smoker poles.
Securit® is a leader in signage and decoration products, as they provide the hospitality industry office and retail branch for over 65 years now. Today, they export their range of chalk markers, chalkboards for outside and inside, menu holders, poster frames and display material all over the world. They offer restaurant owners and a small businesses a great way to personalize their marketing and messaging in a fun way and at an affordable price.
View the full range of Securit products.
Other products that you may be interested in