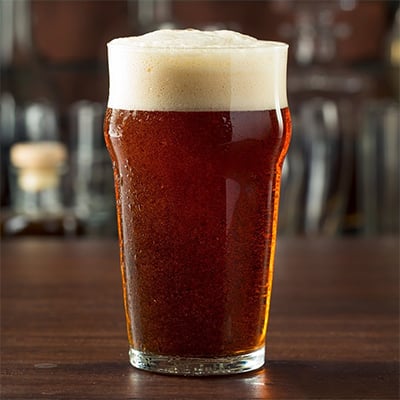 Arcoroc Nonic Beer Glass - Tempered & Nucleated
Capacity: 570ml
Max Width: 87 mm - 3 3/8"
Max Height: 152 mm - 5 7/8"
These Nonic glasses are bar favourites, whether in the generous 66 cl size or the more reasonable 34 cl. They show off the hops' colour and head of foam. The glasses are ergonomic and stable.
High Transparency: Glass in its purest form Arcoroc has the High Transparency - Purity certified glass label on some of its products, this certifies that these items are made with only the highest quality glass. Due to its composition and laboratory-tested and - confirmed performance, Arcoroc glassware features an exceptional level of purity.
Extra Resistant, from Tempering (toughening process): For professionals, breakage problems are a regular occurrence. In order to increase the lifetime of product by 10 to 50 times, in 1958 our research and development department developed, and since then has perfected a technical process known as Tempering.
This process provides products with excellent resistance to Thermal shock (severe temperature change) and Mechanical shock (bangs & crashes). Many of our Arcoroc items are fully Tempered, as indicated in their descriptions.
Nucleation: Beverages which require a healthy, long lasting effervescence may prefer glassware which enhance the bubble stream. This is achieved by "nucleation" using a laser to roughen the inside of the base of the glass, either a circle of dots, or sometimes an image. The gasses in the liquid are trapped in the engraved microfiber gas pockets which act as nucleation sites for the formation of bubbles.
Glass Safety: Glass breaks into small shards not sharp to the touch.
Perfectly Stackable: Items especially designed to be stackable.
Nucleated: These products are nucleated
These days, customers are eager to get back to old-time alcoholic beverages, forgotten flavours, and the savoir-faire of our ancestors. This quest for authenticity has resulted in the emergence of taphouses offering innovative concepts such as breweries on the premises and food and beer pairings.
Customers no longer drink beer to enjoy a refreshing beverage; instead, they sample it just like with wine. Vintage spirits and aperitifs are experiencing the same revival. ARCOROC has designed glass shapes to accommodate all of these drinks. Each beer should be served in its own glass, which is designed to preserve its aromas and create a healthy foam head.
ARCOROC has been creating effective, durable tableware products since 1958. Their expertise is unique. It's down to their devoted, demanding teams, who place material innovation and design at the heart of our development.
Armed with its know-how in glassware, it developed globally and currently markets its complete tableware ranges to more than 160 countries.
What Do You Think Is The No. 1 Reason Glassware Breaks? Being dropped? No. Clanking against another object? No, but close. Find out more.