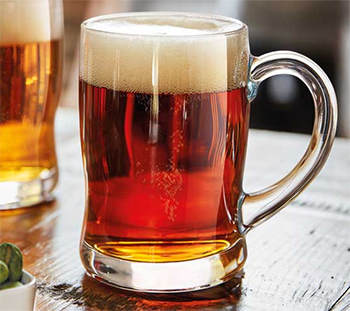 Arcoroc Benidorm Beer Mug 450ml
Capacity: 450ml
Max Width: 130 mm - 5 1/8"
Max Height: 127 mm - 5"
Price above is for one glass. Sold in carton quantities only.
The Benidorm tumbler is popular with white beer lovers: add a slice of lemon to increase the acidity of the fermented beverage. Its generous handle is easy to hold and its thick walls keep the drink nice and cold.
These days, customers are eager to get back to old-time alcoholic beverages, forgotten flavours, and the savoir-faire of our ancestors. This quest for authenticity has resulted in the emergence of taphouses offering innovative concepts such as breweries on the premises and food and beer pairings.
Customers no longer drink beer to enjoy a refreshing beverage; instead, they sample it just like with wine. Vintage spirits and aperitifs are experiencing the same revival. ARCOROC has designed glass shapes to accommodate all of these drinks. Each beer should be served in its own glass, which is designed to preserve its aromas and create a healthy foam head.
High Transparency: Glass in its purest form Arcoroc has the High Transparency - Purity certified glass label on some of its products, this certifies that these items are made with only the highest quality glass. Due to its composition and laboratory-tested and - confirmed performance, Arcoroc glassware features an exceptional level of purity.
ARCOROC has been creating effective, durable tableware products since 1958. Their expertise is unique. It's down to their devoted, demanding teams, who place material innovation and design at the heart of our development.
Armed with its know-how in glassware, it developed globally and currently markets its complete tableware ranges to more than 160 countries.
What Do You Think Is The No. 1 Reason Glassware Breaks? Being dropped? No. Clanking against another object? No, but close. Find out more.