KitchenAid Commercial Mixer with 7.6L Bowl
Was
$1,999.00
Special Price
$1,899.05
plus GST
Introducing Kitchen Aid's best performing stand mixer. Versatility. Power. Performance. Introducing our best performing Commercial Stand Mixer. Powerful enough to handle three + kgs of dough and quiet enough to sit on your counter. Power through your day!
The colourful KitchenAid range can be found in family homes across Australasia, the Americas and the United Kingdom. Whether it's their Food Processors, Pasta Rollers or Classic Stand Mixers where the story first began, there's a reason we've been invited to join these families, they've stayed true to their passion for crafting high quality products that ultimately help your family produce beautiful food.
Their passion is for cooking, for fine food and how it celebrates a connection with our loved ones and long-standing traditions. A familiar smell, or taste, can instantly take us back in time to special moments we lived long ago. Whether it's Grandma's age-old carbonara or Dad's grilled lamb rissoles on a summer's barbecue, KitchenAid helped bring the meal to the table.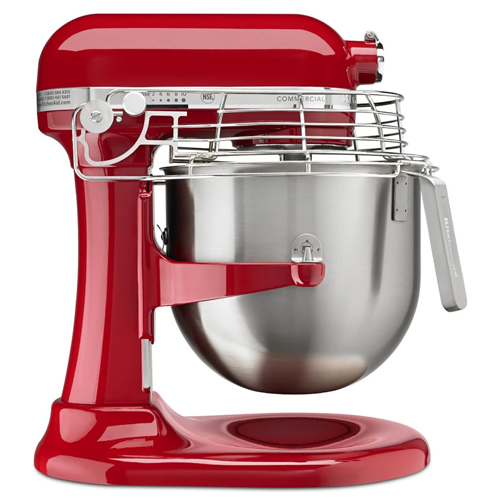 Our Most Powerful, Quietest Available 1.3hp
High-efficiency dc motor** is designed to run longer and Delivers optimum torque with less heat buildup. Easily Handles recipes requiring longer mixing, kneading and Whipping times. The all-metal, precise gear design produces A smooth, quiet sound.
NSF Certified for Commercial Use
Large Capacity - Easily mixes recipes with up to 13 cups Of flour, kneads dough for 5x450g loaves of bread in a Single bowl.
Powercore® Technology - Feedback control Communicates in micro seconds to the motor to ensure Optimal power is delivered to the bowl.
Speed Control Protection - Reduces the risk of Accidentally turning on the mixer when wiping it clean.
Stainless Steel Bowl Guard - Provides added safety, To keep things from entering the mix area during operation.
Stainless Steel Power Knead™ Spiral Dough - Hook powerfully punches and rolls thick, heavy dough with Smooth efficiency.
Stainless Steel 11-Wire Elliptical Whisk - Provides Increased volume for fluffier egg whites and lighter whipped Cream in minimum time.
7.6l Stainless Steel Bowl With J-Style Ergonomic Handle - The sealed handle and cut edged Bowl eliminates the hazard of food trapping. Dishwasher safe accessories
Specifications and Dimensions
Wattage: 500W
Power rating: 1.3HP High Efficiency DC Motor**
Capacity bowl: 7.6L
Speed Selections: 10 speed variable
Mixing Action: Planetary
Transmission: Direct drive
Construction: Die-cast metal construction
Product dimensions: 41.9H x 33.8W x 17.3D cm
Mixing Capacity: Yeast dough up to a mixed weight of 2.8kg (5 x 450g loaves)
Net weight: 11.3kg
Gross weight: 13.6kg
Colour: Red
Comes With
Flat Beater
Spiral Dough Hook
Elliptical Whisk
Stainless 7.6l Mixing Bowl
If you would like to find out more about this product, please contact us at 0800 503 335 or [email protected].