Product Features
The TONON EKO FIT shelving system has been designed for use in cold rooms in supermarkets, professional kitchens, restaurants, butchers and poultry shops, delis, delicatessens, cheese factories, pasta makers, pastries, etc.
It is also used in food industry and catering industry where hygiene is a must, but also in non-food pantries, hospital laboratories and clean rooms.
Dimensions:
SHT21: Vented with a width of 300mm
SHT22: Vented with a width of 450mm
SHT23: Vented with a width of 600mm
TONON EKO FIT shelving systems are self-supporting and do not need to be secured to floors, walls, nor horizontal or diagonal. These shelving plastic corner kits allow you to join two of your shelves together in a corner shape, organising and tidying your coolroom or storage chamber.
Southern Hospitality Ltd recommends that customers who wish to purchase items such as this consult with one of our friendly sales reps, to iron out all of the fine detail that can accompany such purchases, and ensure that you receive the correct model and specifications for your particular needs.
If you would like to view these models, please contact us at 0800 503 335 or weborders@southernhospitality.co.nz.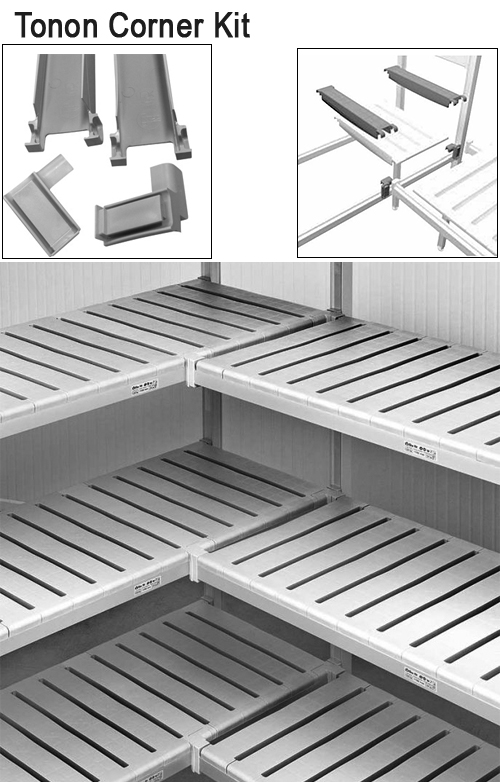 Materials:
Frames structure: 20 micron anodized aluminium
Shelves: polyethylene FDA certified for direct contact with food.
Made in Italy
These accessories and replacement parts are to suit the TONON range of shelving products.
The Tonon corner kits allow you to create a corner shelving system. They should be bought in conjunction with a main unit and an add on unit. When you buy the corner kit, you are buying only the brackets and holders to create the corner shelving system show in this image.
The corner kits are sold in pairs as show in the top 2 images. You will need 4 pairs to attach an add-on unit to the main unit.
For example, to create a 300mm deep corner shelf, you will need a buy the following:
4 x SHT21 - 300mm Plastic Corner Kit
Note: The Tonon shelving products need some assembly, they do not come preassembled.
Below is a video demonstrating how to assemble the shelving system.
You can pair this product with the shelves they go with:
TONON
Tonon Srl has always put its experience in the food industry available to all customers. From industrial installations to small coldrooms, Tonon is committed in providing the best solutions to maximize your work. Choosing Tonon means saying goodbye to unproductive areas and welcome to optimized warehousing, where as much of the space as possible makes a positive contribution to the bottom line.
Other products you may be interested in: