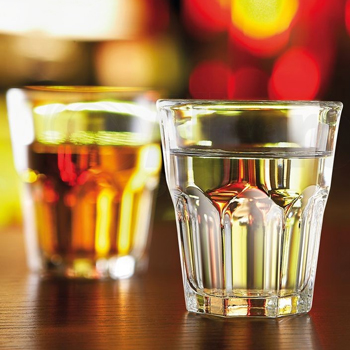 Arcoroc Granity Old Fashioned Tumbler
Capacity: 200 ml
Max Width: 80 mm - 3 1/8"
Max Height: 81 mm - 3 1/8"
Capacity: 240 ml
Max Width: 85 mm - 3 1/4"
Max Height: 89 mm - 3 1/2"
Capacity: 270 ml
Max Width: 85 mm - 3 1/4"
Max Height: 98 mm - 3 3/4"
The Granity collection takes pride of place on tables around the world: in bars, hotels and lounges, on terraces and buffets. Professionals love its vintage look, its range of sizes and the exceptional solidity of tempered glass. The extensive range is dedicated to all soft drinks, water, sodas, fruit juices, as well as beers and spirits.
The generous capacities are made for the large ice cubes that are all the rage in mixology. They add to the impact of your spectacular cocktails. The characteristic design of faceted glass makes them very easy to hold.
Whether it's traditional, futuristic, or a Kiwi speakeasy, these new hotspots for drinking and socializing call on limitness reserves of creativity to attract their aficionados. Cocktails provide customers with a show along with an expert blend of surprising ingredients.
These days, customers are eager to get back to old-time alcoholic beverages, forgotten flavours, and the savoir-faire of our ancestors. This quest for authenticity has resulted in the emergence of taphouses offering innovative concepts such as breweries on the premises and food and drink pairings.
Extra Resistant, from Tempering (toughening process): For professionals, breakage problems are a regular occurrence. In order to increase the lifetime of product by 10 to 50 times, in 1958 our research and development department developed, and since then has perfected a technical process known as Tempering.
This process provides products with excellent resistance to Thermal shock (severe temperature change) and Mechanical shock (bangs & crashes). Many of our Arcoroc items are fully Tempered, as indicated in their descriptions.
Fully Tempered Glass has High Shock Resistance, Thermal Shock Resistance and Glass Safety.
ARCOROC has been creating effective, durable tableware products since 1958. Their expertise is unique. It's down to their devoted, demanding teams, who place material innovation and design at the heart of our development.
Armed with its know-how in glassware, it developed globally and currently markets its complete tableware ranges to more than 160 countries.
What Do You Think Is The No. 1 Reason Glassware Breaks? Being dropped? No. Clanking against another object? No, but close. Find out more.
Other products you will be interested in: