This Simply Stainless Pipe Wall Shelf is a 300mm deep shelf made of 5 pipes and comes in a range of lengths. It is suited to kitchens, bars, food preparation areas and more. This product comes disassembled in a box, assembly is required.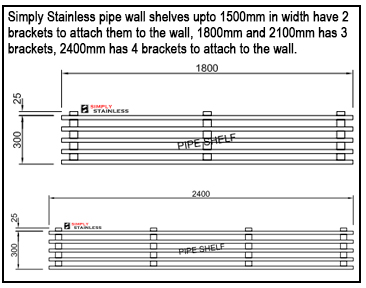 NOTE: Simply Stainless pipe wall shelves up 1500mm in width have 2 wall brackets, 1800mm and 2100 has 3 brackets and the 2400mm wall shelves has 4 brackets.
Southern Hospitality Ltd recommends that customers who wish to purchase items such as this consult with one of our friendly sales reps, to iron out all of the fine detail that can accompany such purchases, and ensure that you receive the correct model and specifications for your particular needs.
If you would like to view these models, please contact us at 0800 503 335 or weborders[email protected].
This Simply Stainless Pipe Wall Shelf's specifications are as follows:
Tops: 1.2mm Thick stainless steel, No. 4 finish
Cores: 3.0mm Zincallume
Brackets: 1.2mm Thick stainless steel, No. 4 finish
Top Rails: 25mm dia. round stainless steel tube, satin polished, 1.2mm thick
Cleaning Instructions
Stainless steel must be cleaned to maintain its ability to resist corrosion. The surface of stainless steel is protected from corrosion by a thin layer of chromium oxide.
Assembly Instructions
Here is a quick animation showing how to assemble this product:
Simply Stainless is a global brand that specialises in the innovative design, manufacture and distribution of quality stainless steel modular systems. Their underlying philosophy is based around the principles of QAV - Quality, Availability, Value. These fundamentals drive them to provide an unparalleled product and service in the global stainless steel market.
Simply Stainless manufacture using the principles of 5S – Sort, Set, Shine, Standardise, Sustain – helping them to achieve high levels of quality and workmanship in their products. We are also a fully accredited ISO9001 factory.
Their vision is to be a globally recognised brand that is famous for innovative, high quality, competitively priced stainless steel modular products that are:
Simple to buy, Simple to ship, Simple to store, Simple to sell and Simple to install.
Other products you may like