Product Features
This Simply Stainless Leg Brace for 700mm Deep Benches comes in a range of lengths. They are designed to brace the legs of a 700mm deep bench, please match the depth and length of your bench. It is suited to kitchens, bars, food preparation areas and more.
SS98: 1800mmL x 700mmD
SS97: 1500mmL x 700mmD
SS96: 1200mmL x 700mmD
SS95: 900mmL x 700mmD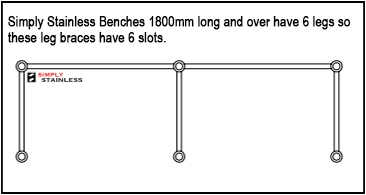 NOTE: Simply Stainless benches which are 1800 long or over have 6 legs instead of the 4 so the corresponding leg braces have 6 slots. Please ensure that you purchase the correct product.
Southern Hospitality Ltd recommends that customers who wish to purchase items such as this consult with one of our friendly sales reps, to iron out all of the fine detail that can accompany such purchases, and ensure that you receive the correct model and specifications for your particular needs.
If you would like one of our staff to come down to your establishment, measure and give you a FREE NO OBLIGATION quote, give us a call at 0800 503 335 or email us at [email protected].
This Simply Stainless Under Shelf is a tubular stainless steel leg brace specifications are as follows:
Brace to replace undershelf on standard benching to create full height storage - for use on products 01, 02, 05, 06, 18, & 24
25mm stainless steel tube construction
This product will require some assembly.
Other products you may like