This year Southern Hospitality has achieved SiteWise Gold Accreditation by scoring a perfect 100% in our annual SiteWise Health and Safety Assessment.
Southern Hospitality prides itself on the safety of all staff and contractors and receiving this evidence-based assessment is testimony to the high standards and the rigorous Health and Safety systems in place in our business and within our Project Management & Delivery Team.
Our team has adopted Think Safe | Act Safe | Home Safe as our mantra, and this recognition powered by SiteSafe confirms you are in safe hands when you work with us. Congratulation to the team for this great result!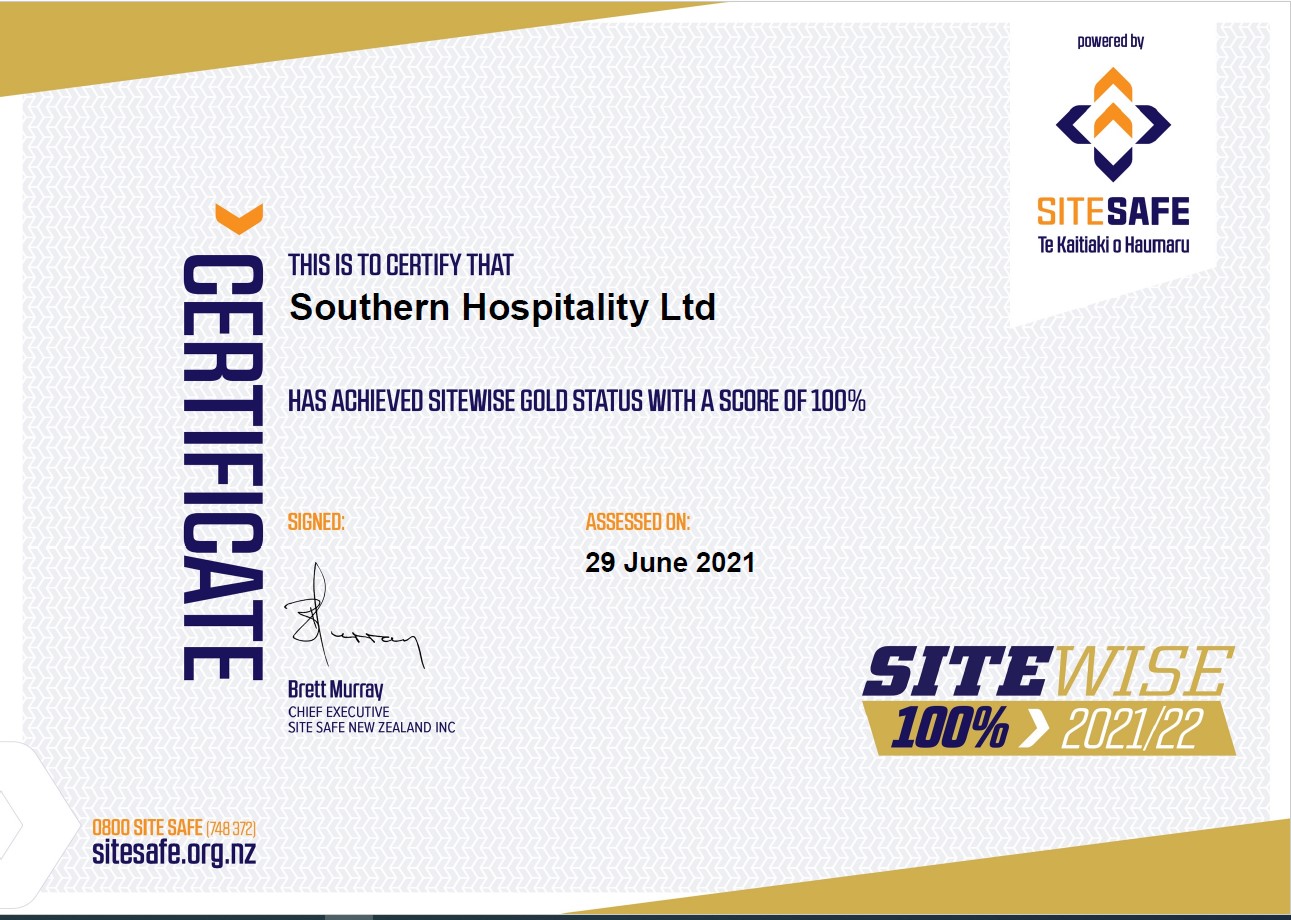 By registering with SiteWise, and completing the assessment process we:
display our commitment to good health and safety practices to organisations that wish to work with us
minimise the need to provide evidence of good health and safety practice with each new project, as the assessment results are valid for a year
are listed as a Gold business in a database that shows to all organisations that use SiteWise as a prequalification tool
get access to independent and cost-effective advice on how we can improve our health and safety practices quickly and easily
HOW IS THIS HELPFUL TO YOU?
Our achievement of industry accreditation demonstrates our commitment to good health and safety practices
Knowledge that SHL has robust/quality/capable H&S systems and policies that are industry tested and certified
If you use Sitewise:



you can view our assessment and our scores
we would eliminate the need to provide evidence of our H&S systems on a project by project basis.
Find out more about our Project Management Team and how we can provide the complete project management process and meet the demands of the hospitality and food industry or contact us on 0800 503 335 to talk through your next venture.