Iona College in Havelock North is a school for girls with both boarding and day girl facilities for Years 7-13. Opened in 1914, Iona College is the oldest Presbyterian School in New Zealand. It was established as a girls' boarding school built on land donated by Mr Hugh Campbell.
The existing kitchen was housed in a heritage building that required earthquake strengthening. Added to this, a dormitory above the kitchen meant the building could not be demolished. So, began the task of removing the existing kitchen, installing a mountain of steel and rebuilding from ground up. A wing was demolished and replaced with new office, bakery, cool room and dry store – all linked to the new kitchen. Existing masonry walls were accommodated into the design. The project also included a new dish wash room and new buffet servery area in the dining room for the girls.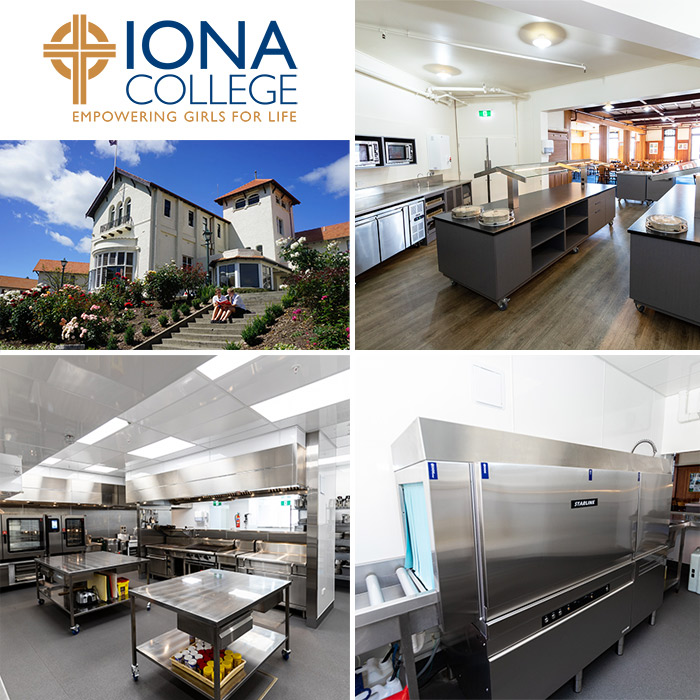 During the 12-month construction period a container kitchen and temporary cool rooms was moved on site and the food was prepared from this facility. The end result is a fantastic, well purposed kitchen designed for the next generation!
Southern Hospitality is proud to have worked with Iona College, Project Design International, Project Stainless Ltd, Project Stainless Ltd and MCL Construction Ltd to have completed this project.
---
The kitchen features a wide variety of cooking equipment featuring 20 and 10 tray Convotherm ovens set on stainless steel stands, a Blue Seal electric fish fryer, a Target Top, a Chargrill, a Bratt Pan and infill benches all from Waldorf. Some of the infill benches have been fitted with racks to hold GN pans for extra storage.
All the cooking equipment set in the kitchen are supported by two custom made Lo Flo exhaust hoods made by Project Mechanical Ltd. The walls and spinewalls of the kitchen have been lined with Stainless Steel sheets to protect them from damage due to the heat emanating from the cooking equipment.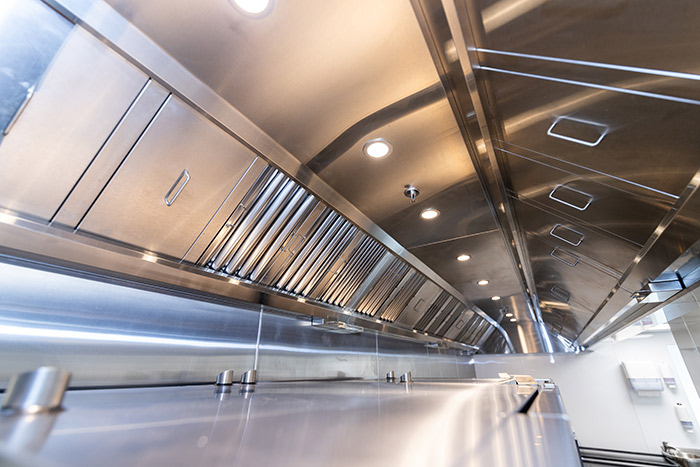 ---
Apart from lining the walls with stainless steel, Project Stainless Ltd also fabricated various custom made stainless steel prep benches and mobile work tables.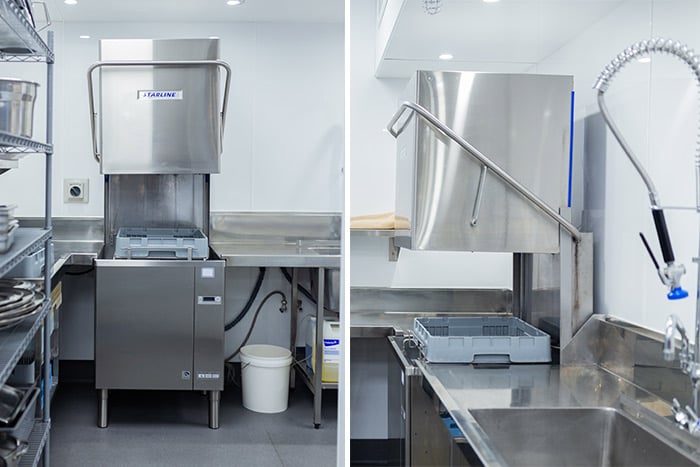 A Starline M2 passthrough dishwasher is supported by more custom made stainless steel benches with sinks, Fisher pre-rinse taps and dishrack stands, Simply Stainless wall shelves, and Leader shelves. Both types of shelving are sturdy enough to take the rigours of the hospitality industry.
The kitchen also features a custom walk in cool room and freezer room with Tonon shelving throughout.
---
The dedicated bakery section of the kitchen features a Turbofan E35 oven set on an 8 rack prover. The oven is supported by a Lo Flo hood supplied by Project Mechanical Ltd. The three existing mixers were set on new stainless steel mobile trolleys so that they can be moved for easy cleaning.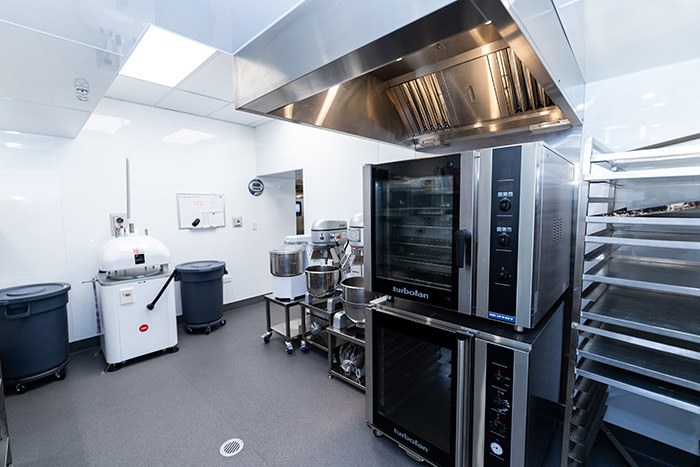 The bakery also has a Vitella semi auto divider rounder. In the background, are Simply Stainless wall shelves, baking tray trolley, leader shelves and custom stainless steel benches with sinks.
---
The servery and the buffet area feature 2 Menumaster Microwave ovens. These ovens are hardy and can handle being opened and closed hundreds of times a day without wearing out. We also put in a Delta undercounter refrigerator and a Scotsman ice machine, all set beneath a custom-made stainless steel benchtop on a custom-made joinery counter with a custom stainless steel work top from Project Stainless. There is also a slide out rack for holding clean cups.
Above the counter is a Zenith wall mounted hot water boiler and we installed a Niagara chilled water station on the counter.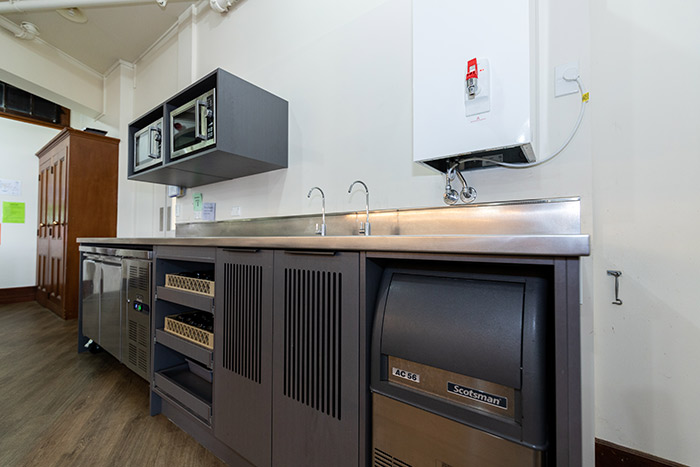 ---
The buffet tables have granite surfaces with built in plate lowerators. Project Stainless Ltd fabricated the drawer insert to hold the cutlery and serviettes and they also supplied the glass gantries. There is also a Hatco conveyor toaster oven.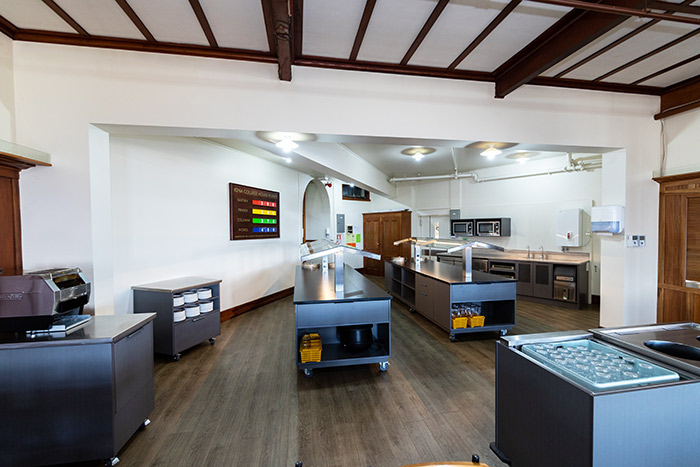 ---
The wash up area features a Starline rack conveyor dishwasher with a roller table supported by Fisher pre-rinse tapware, hose reel and a stainless-steel bench custom fabricated by Project Stainless Ltd.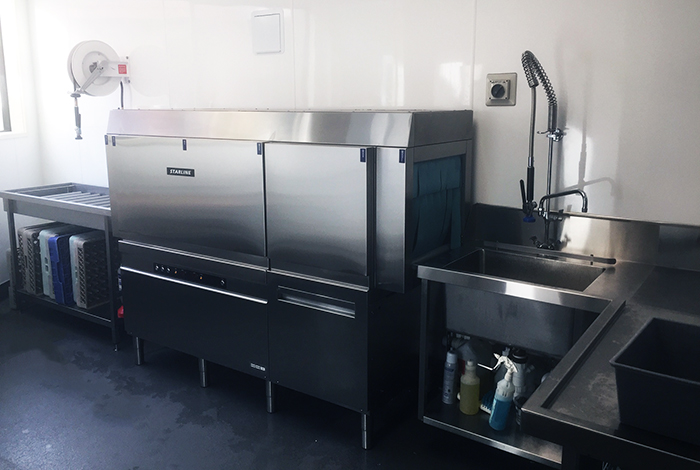 ---
Southern Hospitality is proud to have collaborated with Project Mechanical Ltd, Project Stainless Ltd and Project Design International and worked with Iona College and MCL Construction to refurbish their kitchen and dining room.
Refurbishing an old kitchen can save you time, effort and ultimately, money in the long run. If you think your kitchen can do with an upgrade, give us a call at 0800 503 335 or email us at weborders@southernhospitality.co.nz.