Preparing Your Equipment To Use After Covid-19 Alert Level 4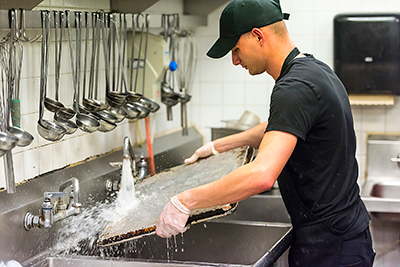 New Zealand will soon move from Level 4 Alert into Level 3 and most establishments will be able to start operating to provide food for takeaways and deliveries. People have been eating home cooked meals every day for the past few weeks and will be raring to eat something different.
For those of us who are running a commercial kitchen or bakery but have been out of action, it is important to remember that most the equipment in your business have been made for constant everyday use. Therefore, it is important to have all your food and beverage equipment properly cleaned before your start using them to prepare products for your customers.
The Southern Hospitality team have come up and created some key points and step by step guides on how to prepare to re-open your establishment -
Grease traps and convertors
There has been no water flowing through the grease convertor or grease trap, this will have caused some fat, oil, grease (FOG) to congeal. There is a good chance that bacteria has built up around the seals and in the PVC piping.
Here is a simple guide to ensure that you remove all harmful bacteria and breakdown the FOG and get it flowing out. There are many brands of grease converters/traps, these points will cover most types.
Dishwashers and Glasswashers
Your dishwasher been inactive, there will be a lot of built up bacteria around the door seals, wash tank and in the drain pipes. The stagnant water in the drains will have a bad odour. It is very important that we remove the bacteria and re start the dishwasher in this step by step guide.
Ice Machines
There has been no water flowing through hoses and dispenser, bacteria will be present throughout the insulated bin and dispenser.
Most ice machines have an automatic cleaning cycle, but in this case, it is important to manually clean all exposed areas inside and out.
Here is a step by step guide how to clean and what to check before starting up the ice machine.
---
Visit the chemicals section of our website and purchase from a wide range of products you will need to clean your equipment, your kitchen and front of house before you open the doors to your customers.
If you are not sure how to clean a certain piece of machinery, please get in touch with your Southern Hospitality sales rep or give us a call at 0800 503 335 and we will help in you every way we can to get you ready to return to a fully functioning business.