Dry aged beef tacos with cucumber and buckwheat is a light snack for birthdays and parties, and can be enriched by all manner of dips and sauces. Use spicy relish or aioli as dips, as well as good old-fashioned ketchup, curry sauce or mango sauce as the perfect companions for these crunchy tacos.
If you prefer not to use taco shells, you can use tortillas. Either in sizes that you can cut into portions yourself, or in the form of mini-tortillas.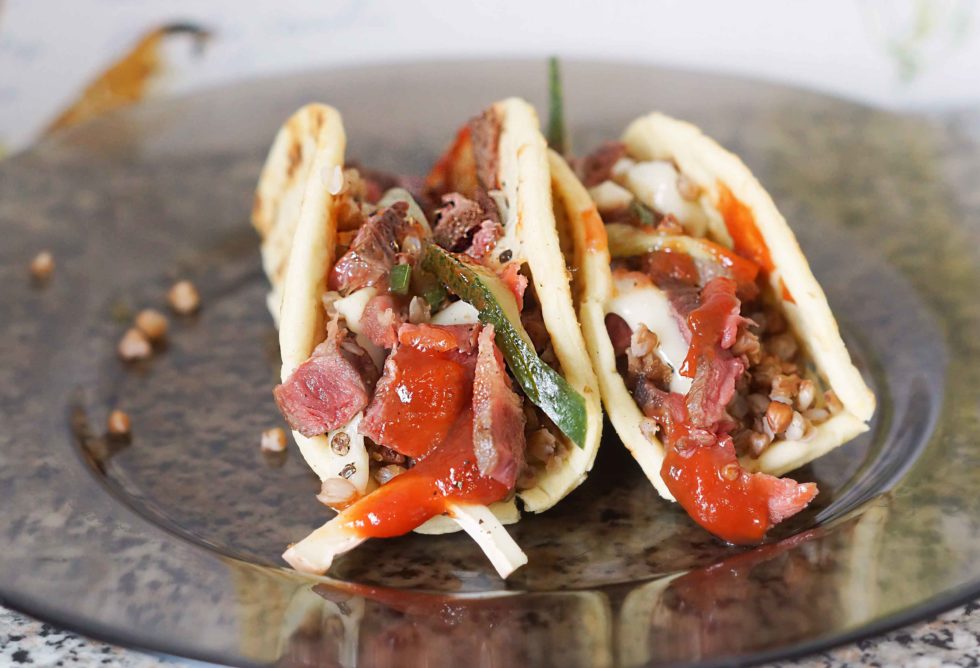 Ingredients:
serves 4 people
One big dry-aged steak of your choice, weighing 400 grams
1-2 packs of tacos
150 grams of buckwheat
½ cucumber
100 grams of Emmentaler cheese
Pepper
Salt
Oil for frying
Preparation:
Remove buckwheat from its packaging.
Put some water in a pan and add the buckwheat.
Mix the buckwheat and water by hand.
Drain off the surplus water.
Then add twice as much water as buckwheat to the pan.
Add a little salt and simmer the buckwheat.
Turn off the heat after about 10 minutes.
Leave the buckwheat to soak for another 10 minutes.
Heat oil in a large frying pan.
Fry the steaks in the pan until rare or medium.
Wrap the steaks in aluminium foil and leave them to one side for 5 minutes.
Wash the cucumber, chop it in half and cut it into thin strips.
Finely grate Emmental using a grater.
Cut the steaks into thin strips, add salt and pepper to taste.
Mix the strips of steak, the cucumber and the cheese in the hot frying pan.
Add the buckwheat and mix everything together thoroughly.
Remove the tacos from their packaging.
Fill the tacos with the mixture and season to taste.
Delicious hot as well as cold.
Thanks to Dry Ager for this recipe! Check out the Dry Ager DX500 and DX1000 and all its accessories.