Burlington Village in Christchurch has been carefully designed to be a residential and non-institutional in appearance. The complex represents a new generation in retirement living. Residents can safeguard their health while enjoying an unprecedented level of activities and personal space.
Southern Hospitality along with Project Stainless, Project Mechanical, and Project Design International are proud to have worked with Qestral Group, Kenway Consultants and Armitage Williams Construction on this project.
---
The kitchen has been setup with local sourced and supported equipment like Convotherm Combi Oven C4T10.10CD - 11 Tray Combi-Steamer Oven, a Blue Seal 4 burner cooktop with griddle section, Blue Seal deep fryer and a 38 Ltr. Crown kettle. All the cooking equipment are set beneath a Britannia Capturestream Extraction Hood manufactured and specified by Project Mechanical Ltd.

The spine wall is fully constructed by 30mm boxed section hollow SS tube and lined in 1.2mm Food grade Stainless Steel Sheet metal. The design of this spine wall was constructed with thought around appearance, services locations, fixings and serviceability. The end result is the equipment sitting flush against the wall with an area for services countersunk.
---
The kitchen also features a selection of Delta under counter and upright refrigeration, and Birko wall mounted hot water heaters. Scanbox Heated food Carriers are a great addition to any kitchen.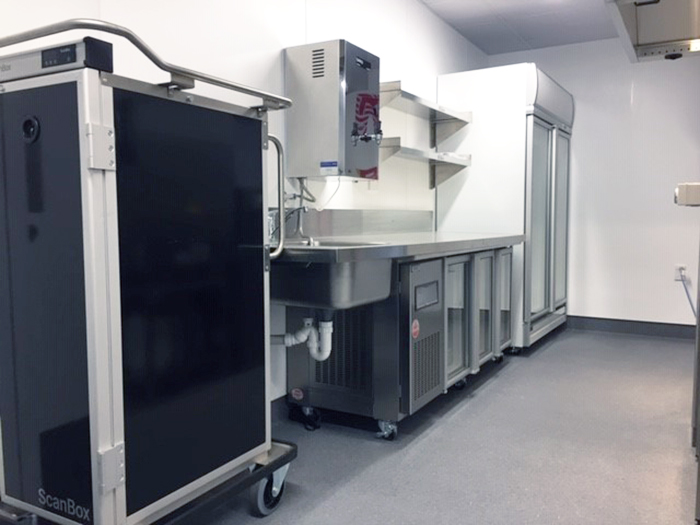 ---
The wash area of the kitchen has been setup with a Starline M2C (self-condensing) pass through dishwasher supported by custom made stainless steel benches fabricated by Project Stainless, Simply Stainless wall shelves, and Fisher bench mounted Pre-Rinse tap.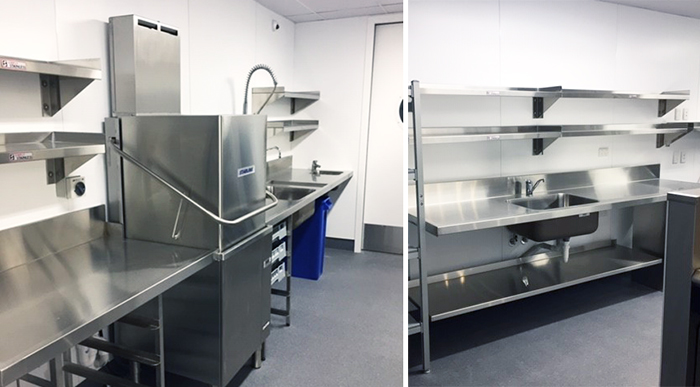 The Starline M2C represents the latest step in 35 years of local design evolution and is a direct upgrade of our most popular passthrough dishwasher. As part of the Starline Professional Range it combines the best of modern technology with an uncompromising use of high quality components and heavy duty stainless steel construction.
---
We built them this custom cool room and fitted it with shelves which have been made by Tonon specifically for the hospitality industry. We also supplied to the dry store a 20L Delta Planetary mixer set on castors so that it can be stored away when not in use.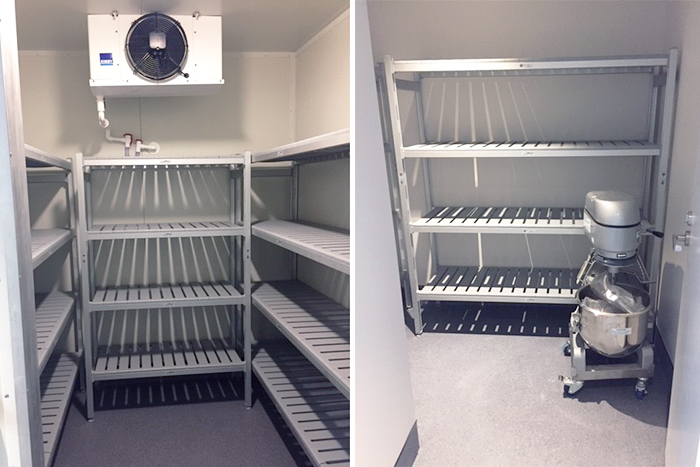 ---
Southern Hospitality, Project Stainless, Mechanical and Design are proud to have worked with Qestral Group, Kenway Consultants and Armitage Williams Construction to bring an outstanding result to the New and Modern Christchurch Burlington Village Care Centre.
If you are thinking about renovating your kitchen or building a new one, give us a call at 0800 503 335 to find out how we can give you a full rounded service from design, equipment, installation and project management.