There's a reason Blendtec is called The World's Most Advanced Blender. With technology to make blending simpler and more effective, Blendtec is the ultimate tool for helping you Feed Your Passion™.

View our range of Blendtec Blenders.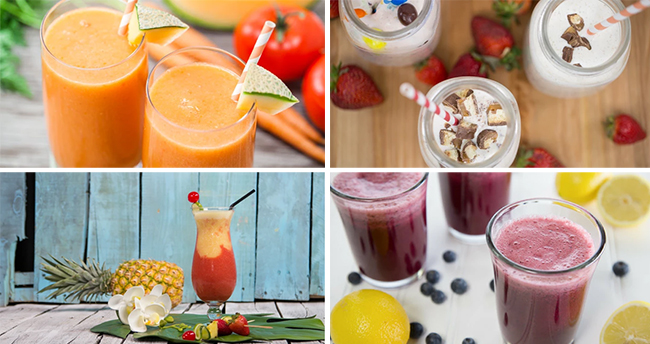 ---
Sparkling Blueberry Lemonade Recipe
When life gives you lemons, make lemonade. When life gives you a Blendtec, make this Sparkling Blueberry Lemonade recipe! This twist on the refreshing summer classic isn't just refreshing—it's also surprisingly easy to make. It only takes about a minute to prep and blend, so you won't have to put your summer fun on hold for very long in order to enjoy this delicious drink!
This recipe's key elements are lemons, blueberries, and sparkling water. Sounds simple enough, right? These ingredients give you the perfect balance of sweetness, tanginess, and tartness.
---
Miami Vice Drink
This recipe combines the flavors of tropical Pina Colada and fruity Strawberry Daiquiri to make an amazing smoothie that is contrasting in both color and taste. The key to getting this smoothie just right is mixing the different components of the Pina Colada and Strawberry Daiquiri separately, creating a unique, layered smoothie that will be a favorite amongst kids and adults alike. The refreshing, nutritious fruit mix is sure to please anyone and everyone this summer.
This recipe also features only all-natural sweeteners and ingredients so you know exactly what you are blending—and that everything going into the smoothie is going to help you feel your best.
---
Thick Milkshake
Enjoy this deliciously thick milkshake on a hot summer day. It's a great treat for customers to enjoy, and there's endless possibilities with what you can create. You can use vanilla ice cream and mix-in different syrups, your favorite candy bar, gummy bears, fruit, or whatever else you can think of. You can even try using a different ice cream flavor.
---
Berry Red Smoothie Recipe
During a hot summer afternoon, there are few flavors as satisfying as fresh fruit. Toss some raspberries and strawberries into your Blendtec and you have a delicious and refreshing berry red smoothie that will keep you cool and satiated during a long day in the sun.
Berries are great for smoothies because they are high in essential nutrients such as vitamins and antioxidants. This recipe will give you a boost of energy while improving your overall health. Take advantage of berry season and indulge in a summertime favorite with this simple red smoothie recipe.
---
Cantaloupe Veggie Smoothie
At less than 100 calories per serving, this cantaloupe-veggie smoothie is a great treat anytime of the day! Did you know that cantaloupe is an excellent source of vitamin A and vitamin C? One cup of diced cantaloupe contains 106% of the daily recommended intake of vitamin A and 95% of the daily recommended intake of vitamin C.
Vitamin A is a powerful antioxidant that is essential to eye health; it protects eyes from infection and gives you good vision. Vitamin C is said to be one of the safest and most effective nutrients. Consumption of vitamin C helps the body scavenge harmful oxygen-free radicals, protect against immune system deficiencies, prenatal health problems, cardiovascular disease, eye disease, and even skin wrinkling.
---
View our range of Blendtec Blenders here.