Grant's Sous Vide cooking equipment is precision temperature cooking - the most consistent way of cooking!
The principle of cooking food sous vide is simple: food (e.g. a cut of meat) is vacuum sealed in a pouch with/without an accompanying sauce or seasoning, and then cooked in a precision temperature controlled bath at comparatively low temperatures (typically around 70°C). Sous vide cooking method is mainly used for cooking meat and fish, vegetables and fruit and offers a range of key benefits:
Consistency: each dish is the same, every time
Flexibility: no rush, leave in to cook for an extra hour with no effect on the quality
Lower energy: less heat extraction, less heat in the kitchen. Little energy to maintain temperatures
Quality: achieve excellence in molecular gastronomy. Experiment and invent new dishes
Workflow: Food portions can be prepared in advance, vacuum sealed and stored in a refrigerator for comparatively long periods of time – ideal for coping with the peaks and troughs in activity and for master kitchens supplying 'satellite' kitchens
Cheaper cuts: transform cheaper cuts of meat into the premium. Make same quality dishes, only cheaper
Here's are some beef & lamb recipes perfect for your water bath!
Sunday Lamb Roast
Ingredients:
500g Lamb Breast, 1 garlic clove, Salt & Pepper. Vegetables: 4 large white potatoes, 2 leeks, 4 carrots, 1 tbsp butter, 75ml olive oil, Salt & pepper. To Serve: 100g mushrooms, 1/2 red onion, Salt & pepper.
Recipe:
Fill your sous vide water bath with water and preheat to 55ºC.
Remove most of the fat from your lamb breast and then season generously with salt and pepper before adding to a vacuum pouch. Peel and chop a garlic clove before adding to the vacuum pouch.
Once the sous vide water bath reaches the desired temperature, seal the vacuum pouch and place into your sous vide water bath to cook for 6 hours.
Vegetables
1 hour before serving, preheat your oven to 210°C. Add the olive oil to a glass cooking dish and place into the oven to warm.
Peel the potatoes before chopping into cubes and adding to a pan of salted boiling water to boil for 15 minutes or until soft.
Drain the potatoes and allow to rest until most of the steam has evaporated. carefully place the potatoes into the glass dish to roast. Continue to turn and baste the potatoes so as to ensure all sides are golden and cooked evenly.
15 minutes before serving, peel and slice the carrots before adding to a pan of salted boiling water to cook until soft. Once soft, drain, season and set aside.
At the same time, cut the leeks into thin pieces before adding to a pan along with the butter and seasoning. Bring the pan to medium heat and cook the leeks until golden.
Remove the lamb from the vacuum pouch and add to a pan over high heat, together with the juices from the vacuum pouch. Sear on each side for 1 minute, before removing from the heat and allowing to rest for 10 minutes.
Dice the onion and mushrooms before adding to a pan to brown over medium heat. Once cooked, set aside.
Remove the roast potatoes from the oven and use a sieve to remove any excess oil. Add these to a serving platter, along with the carrots and leeks.
Slice the lamb before adding to two plates.
Add the mushroom and onion to your gravy and mix together well. Add the gravy to a jug and place it alongside the serving platter.
Korean Style Sous Vide Sirloin Steak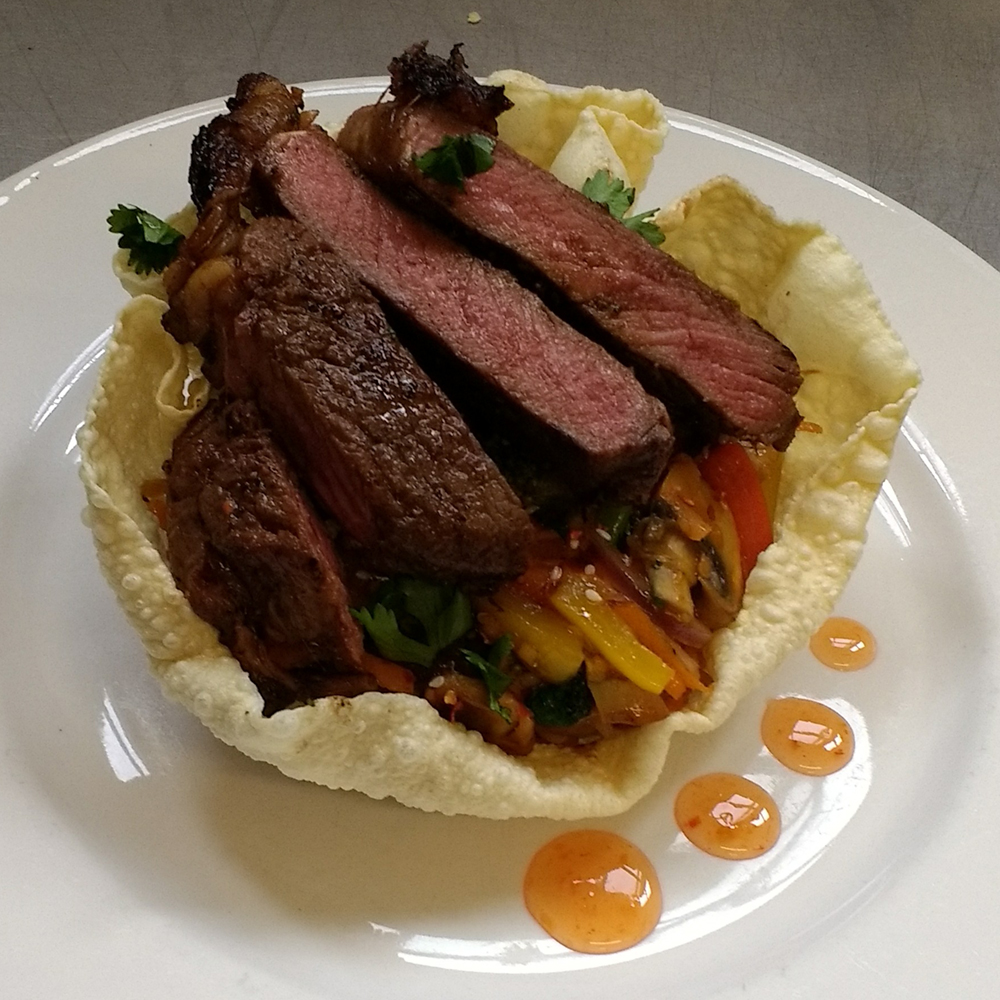 Ingredients:
Two, 225g sirloin steaks, 2 large, ready to cook poppadoms, 10g fresh coriander. Marinade: 2 tbsp sriracha sauce, 3 tbsp dark soy sauce, 2 garlic cloves, 1/2 tsp brown sugar, 1/2 tsp chilli flakes, 1 tsp fresh ginger, 10g fresh coriander.
Recipe:
Preheat your sous vide water bath to your preferred temperature: 54°C if you like your steak rare, 60°C if you prefer medium rare.
To make your marinade, mix the soy sauce, sriracha sauce, brown sugar, chilli flakes, grated ginger, garlic and chopped coriander in a small bowl.
Place the sirloin steak into a vacuum pouch together with the contents of the bowl before sealing. Allow marinating while your sous vide bath is heating to the desired temperature.
Once the desired temperature is reached, place the vacuum pouch into your sous vide water bath to cook for 1 hour.
Place the butter into a frying pan over high heat. Remove the sirloin steaks from the vacuum pouch and sear in the pan for 20 seconds on each side until brown. Season with pepper.
Heres a video explaining the benefits of Sou Vide beef & Lamb.
About Grant Creative Cuisine
Introducing Grant Creative Cuisine, a complete range of high-quality consumer and professional sous vide equipment including portable immersion circulators and water baths. Working with some of the world's leading chefs including Marcus Wareing, Angela Hartnett MBE and Ashley Palmer-Watts, all Creative Cuisine products are manufactured in the United Kingdom.
With over 60 years of experience in precision temperature control equipment, Grant has a worldwide reputation for the highest levels of quality, reliability, service and support.
Grant includes a range of tools, from the Uno sous vide controller and Primo water bath for the at-home cook to the Pasto water baths and Vortice portable immersion circulator for the professional chef. All Grant products are offered with full product warranties and are the preferred choice of leading chefs around the world due to their quality, reliability and durability.
Give us a call at 0800 503 335 or email us at WebOrders@southernhospitality.co.nz.